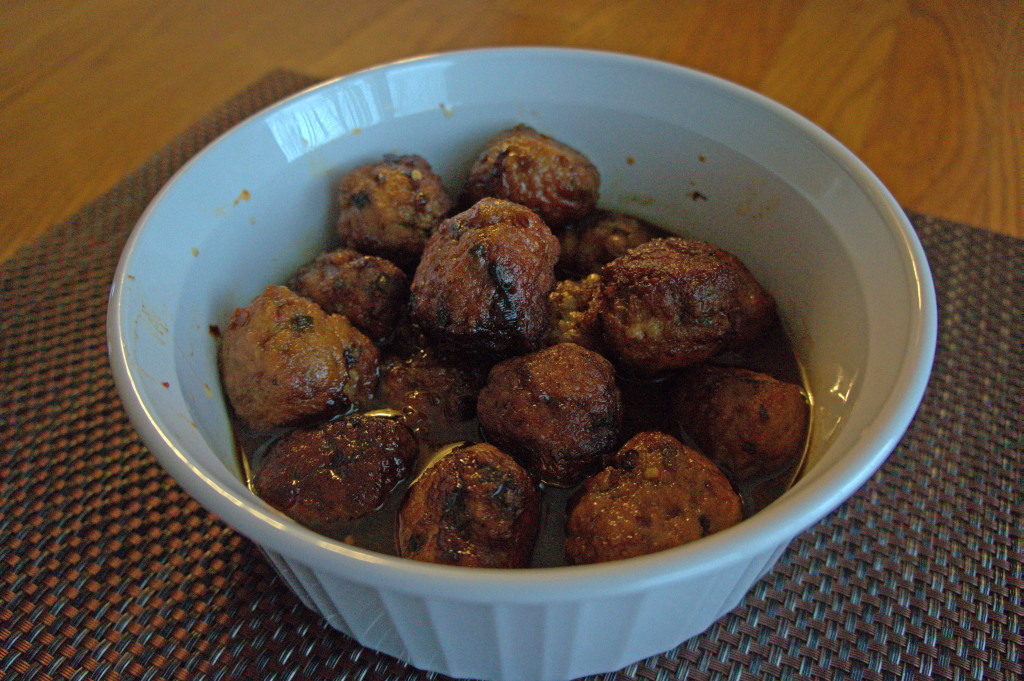 Have you ever asked yourself why most meatballs are red meat or a blend of red meat and pork? What would happen if you used dark, ground chicken thighs instead of beef, sausage or veal?
This recipe allows you to vary your type of meat consumption while still providing you with the familiar look and comforting mouthfeel of meatballs. While doing so, however, these meatballs also impart an unfamiliar Asian zing. This dish is best served over your favorite kind of rice (white, cauli, germinated brown, sprouted wild, etc.) and with broccoli and green onions garnished on top.
Our taste tester was pleasantly surprised by these chicken meatballs. Give them a try or even make a double/triple batch for an easy go-to meal that you can store in the freezer until you need it most.
My favorite part about these meatballs is that they are all real food with absolutely no processed fillers. With such a good blend of flavors you don't need to add breadcrumbs to these beautiful golf ball sized meat morsels!

Asian Chicken Meatballs
Asian flavors infused into golf ball sized meatballs. Perfect for a party or as your meat over a bed of your choice of rice & served with broccoli.
Ingredients
1.5 lbs ground chicken thighs
1 Tbs. sesame oil
½ tsp ground ginger
1 Tbs. Soy sauce
1 cloves minced garlic
½ tsp red chili pepper flakes
Asian BBQ sauce (1/3 cup packed brown sugar, ¼ cup soy sauce,1 tablespoon sesame oil, ½ teaspoon crushed red-pepper flakes,1/4 teaspoon ground ginger, shaken together)
2-3 green onions, chopped
Coconut oil for browning
Instructions
Combine all ingredients except Asian bbq sauce and 1 green onion.
Form into golf ball sized meatballs.
Heat a large skillet or dutch oven (sides prevent splashing) over medium high heat with cooking oil of choice
Brown meatballs on all sides
Transfer to slow cooker with the cooking oil and juices from the skillet
Pour Asian BBQ sauce over the meatballs and turn slow cooker on low for 3-4 hours until internal temp of the meat reaches 165
This recipe was inspired by
Empowered Sustenance Paleo Asian Chicken Meatballs
. I prefer dark meat chicken and know it is easier for most people to buy their meat pre-ground (it's also often cheaper this way). I also use
wheat-free tamari soy sauce
 instead of coconut aminos because my body can tolerate it and dried ground ginger for convenience. The sauce is from 
Damn Delicious's Korean Beef Bowl
 recipe. The sauce in this dish is so simple and worked really well as the brown sugar also dissolved in the slow cooker while infusing the meatballs as well.
Note: I do earn a small commission if you purchase the products I mentioned in this article via the links provided. I only recommend products I would use, or have used myself. Your purchase helps keep this site going and allows me to continue to provide you all with new findings, recipes, and content!