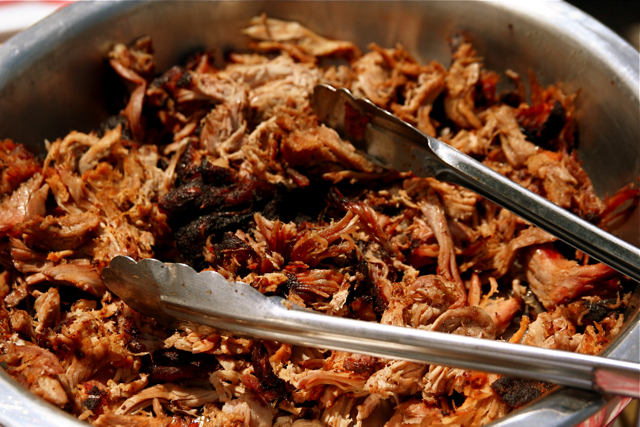 Perfect for mexican burritos, burrito bowls, tacos, and even sandwiches. Let's talk about carnitas.
This recipe was inspired by Nom Nom Paleo's Slow Cooker Kalua Pig. The recipe is a staple in my house and I decided to give it a mexican twist for Cinco de Mayo.
Traditionally, carnitas or "little meats" are simmered in copper pots at low heats in lard, but this recipe uses bacon slices and a slow cooker instead. Lining the bottom of the slow cooker with bacon allows for the pork roast to absorb the smoky flavor of the bacon and simmer in the bacon grease simultaneously. The addition of red alea salt in this recipe further enhances the smoky taste of the meat. You can also use regular sea salt if that is all you have on hand. The type of salt and bacon you use will impart different flavors into your meat.
The beauty of using a slow cooker to prepare carnitas instead of the traditional copper pot method, is that it allows you to walk away while your carnitas cook. In order to make these carnitas you will need a slow cooker that can either be programmed for 16 hours of cook time or you will need to monitor the cook time on your own.

Very Slow Cooked Carnitas
Ingredients
2-3 limes
2-3 oranges
5 cloves garlic
3-5 lb pork shoulder or butt roast
4-5 slices of bacon (we love black forest)
1 tbsp chili powder
2 tsp cumin
2 tsp oregano
1 tbsp red alea salt (or ¾ tsp coarse salt per pound of meat)
1 tsp ground black pepper
1 tsp onion powder
½ tsp cinnamon
½ tsp ancho chile powder
Instructions
marinate the pork shoulder or butt roast in the juice of two oranges and limes overnight
drain the juice from the roast
mix all the seasoning ingredients to create a rub
make 5 slits in the roast and stuff with 5 cloves garlic
line the bottom of a slow cooker with 4-5 slices of bacon
dry rub the roast with seasoning mixture
place the roast in the crockpot for 16 hours on low
remove the roast from the juices, shred and serve with fresh squeezed lime & orange juice if desired
Optional: If you are not eating right away or would like to develop a crispier crust, throw the shredded meat in a dutch oven with a thin coating of lard or bacon grease until desired crispness has been achieved or meat has been heated through