Do you know that you want essential oils? Do you even know how they may help you?
Did you rub a minty ointment from the drugstore on your chest last time you had a cold? Or maybe you drank some lemon tea with honey?
Do you remember that feeling of being in yoga class and being handed a lavender scented towel to place over your eyes and then wipe your hands with?
Have you ever applied pain relieving rub from the pharmacy to a sore muscle to relieve the ache?
All of those actions have something in common. The effects these products wish to create are inspired by the properties of essential oils. So why not go to the source and eliminate the chemicals & fillers?
Why choose Young Living essential oils
Personally, I buy organic produce, local grass fed and pasture raised meats, and try to support products that are sustainably sourced. When I first began my journey with essential oils a few years ago, I used organic essential oils as well. But when I actually started to use these oils for more than scents or cosmetic DIY projects, I realized i needed something a little more robust. Enter therapeutic grade essential oils from Young Living. These oils are are nurtured from seed to seal as Young Living owns many of its own farms, weeds the fields by hand, use their own essential oils in leu of pesticides, and use a chemical free process to distill their oils.
Young Living also tests each batch of oil and has them third party tested to guarantee their purity. If the batch of oils don't stand up to the test, we don't see that particular oil for sale again until they do. This ensures that we receive nothing but the best therapeutic grade oils, every time.
As a bonus, you can get a sampling of how effective these oils are in their premium starter kit for a reasonable price!
"What do I actually do with Essential Oils?"
A better question may be, what can't you actually do with essential oils? Whether you use them in a diffuser to clean the air or brighten your mood, use them as an aid to boost your immune system, or use them to help ease pains, rashes, scars, symptoms of allergies, there's a reason to use essential oils. And they are all very easy! I was sold on their efficacy when I started diffusing lemon, lavender and mint oils to help ease the itching of my nose and watery eyes when allergy season hit. Your go to use may be different, but we all have something we need these wonderful, therapeutic oils for!
So how do you get started? If you sign up as a distributor with the Premium Starter Kit you will enjoy the most oils and utility for your money.
YL Premium Starter Kit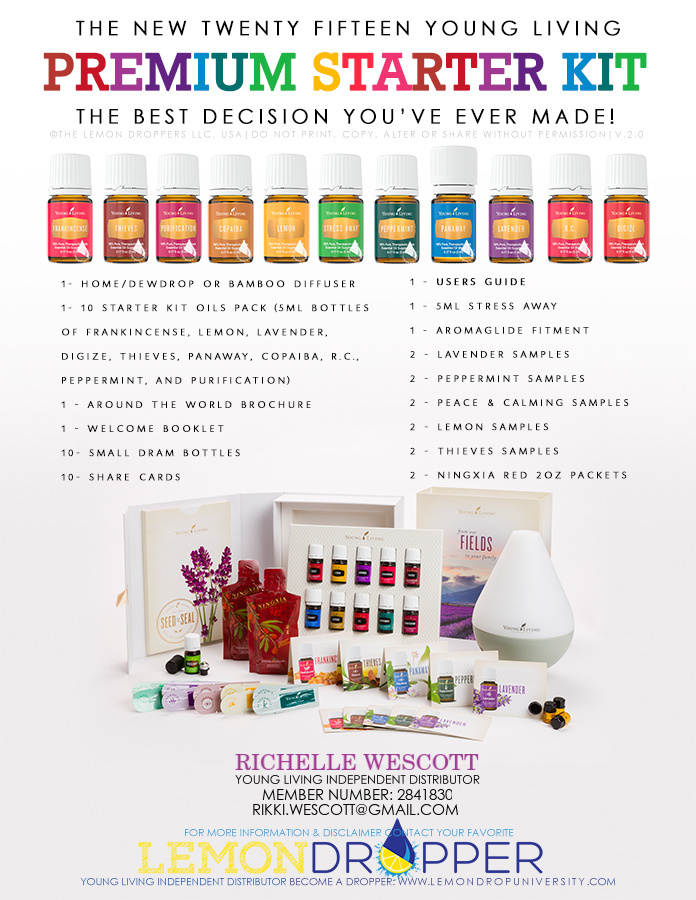 The retail value of this kit is ~ $300. As a Wholesale Member you receive everything included in the kit above for $160.
So how do you get started?
There are two ways to begin enjoying Young Living Essential Oils
Signing up as a Wholesale Member, which allows you to buy the premium starter kit and receive a 24% discount on everything you order. Being a wholesale member is as easy as spending $50 on oils PER YEAR and when you buy the kit you have already met that minimum for year one. It also allows you opportunities to earn commissions if you choose you just have to share your experiences with these oils with everyone you know!
Signing up as a Retail Member which allows you to buy your oils at retail price, with no minimum order amount per year. If you just want to try one oil this may be for you … but you will miss out on the kit and the most reasonably priced diffuser you could ever imagine!
Regardless of which method you ultimately choose, you will never be automatically charged for oils or pushed into doing anything you aren't ready for. If you're in this to enjoy the oils just for you … do that! If you find that you just can't help but share everything that these oils have done for you though, there may be an outlet for you to make some extra money with your passion!
Become a Lemon Dropper
Are you passionate about what your essential oils have done for you? Or do you want to learn about an opportunity that will allow you to share these oils with friends and family for a little extra income?  If you become a Young Living Wholesale member through me, you will have the opportunity to join our Lemon Dropper Family.
Lemon Droppers share their love of essential oils. We want to show people how essential oils have helped us in our daily lives and help them to discover the impact they may have in their own lives as well.
Explore your premium starter kit and see how it affects your life. When you sign up with us we will share our 10 Day Starter Kit Challenge with you so that you can familiarize yourself with the all the oils everyday uses. If you decide you want to share these oils with the rest of the world, let me know! We'll start you on your very own Lemon Dropper journey, and be beside you every step of the way!
 Ready to Sign Up?
Step 1: Go to the sign-up page.
Step 2: Choose "Member" to purchase the kit and receive a 24% discount on all Young Living products. Please note again that there is NO requirement to sell a product or reach a minimum each month as a member.
Step 3: Check that the member number for Enroller ID is 2841830, Sponsor ID is 2841830.
Step 4: Select the country and language.
Step 5: Click "Next"
Step 6: Enter your personal information.
Step 7: Create a username, password (1 UPPERCASE, 1 lowercase and 1 number) and 4-digit PIN. Write them down so you can remember them if you or your enroller need to access your account.
Step 8: Select your "tax information" choice. It will ask you for your ss# but this is only for legal purposes so that you have the ability to bring in a paycheck (YL is a referral based business). If you never sign anyone up, your ss# will never be used.  I do not pressure people into the business end…EVER. I want you to use and love your oils and love you as a member whether you work the business end or not!
Step 9: Agree to the "Terms and Conditions"
Step 10: Click "Agree and Continue"
Step 11: Choose the Premium Starter Kit. It is the only one that comes with the essential oils! 11 oils, a diffuser, samples, a membership and some literature (worth $300) for $160.
Step 12: Under Essential Rewards, click "No, thanks". You can always sign up for it later if you want.
Step 13: Click "Enrollment Checkout"
Step 14: Select the shipping method you desire. Please note, when selecting faster shipping the packaging time of your items remains the same.
Step 15: Enter your billing information.
Step 16: Click "Next"
Step 17: Confirm your purchase, add additional oils if you desire, check out and you are DONE! Yahoo!
Please contact me with any questions you may have!