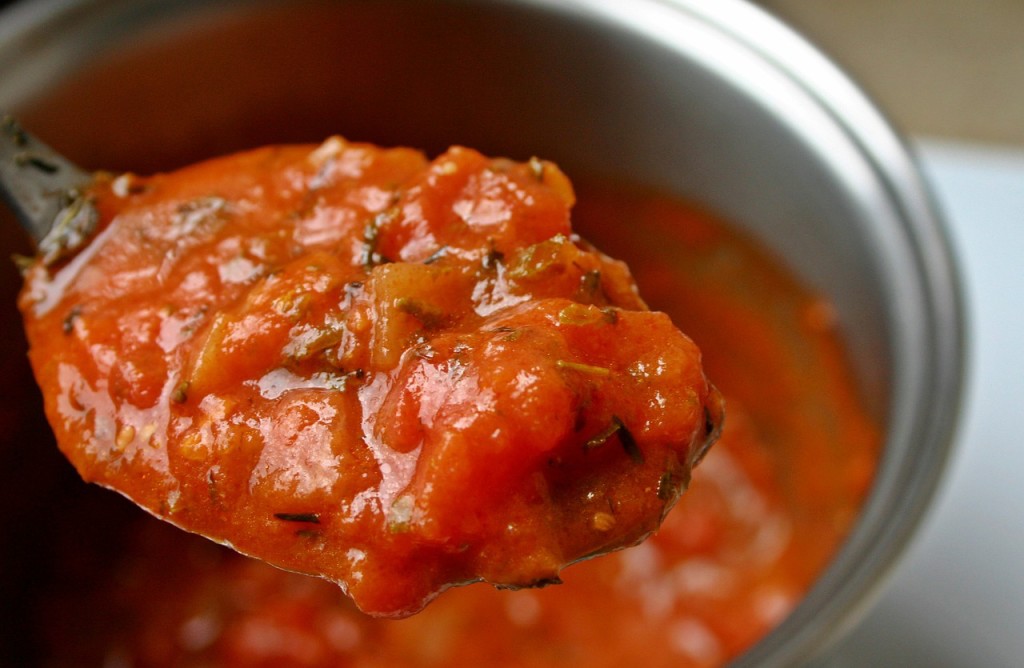 Each week I long for the salty, savory taste of a  hearty, meaty, red sauce to cross my lips and enter my mouth. These sauces have been a part favorite, friend and family favorite and household staple. What's not to love about this Italian classic? I enjoy serving it over einkorn wheat pasta, homemade grain-free, goat cheese stuffed ravioli, spiralized sweet potatoes, butternut squash, celeriac root, and even in baked pasta dishes topped with raw, grass-fed, full-fat cheese.
Besides the fact that a good bolognese sauce is bursting with flavor, it is also a rich source of lycopene from tomatoes and can even be a source of healthy collagen for building your bones and for healing your gut if you use homemade bone broth in this recipe.
The feature of this recipe, however, is jarred tomatoes. In my home, we try to only use products in glass jars. I like to use Jovial and Bionaturae products and have written the recipe as such. Using tomatoes in jars limits exposure to BPA can linings, and even some newer BPA-free can linings that contain a new BPA alternative, BPS. BPA and BPS both may be linked to prostate cancer, breast cancer, fertility issues, asthma and heart disease to name a few issues. I encourage everyone to do their own research on products and find the right fit for them and to adapt the recipe as such!
*This recipe calls for using ground pork and seasoning it yourself to make italian sausage. We used this seasoning recipe from Queen of the Double Red Wide. Feel free to use your own seasoning mix if you have one or sub in ground beef. We've made the sauce both ways and it is equally delicious – simply different.

Italian Sausage Slow Cooker Bolognese
A somewhat spicy, meaty, and fulfilling made from scratch pasta sauce to serve over pasta, veggie spirals, or eat alone.
Ingredients
2 pounds ground pork seasoned with homemade Italian sausage seasoning
1 large onion, finely diced
¼ cup minced garlic, or to taste
3, 18 oz jars Jovial Crushed Tomatoes
12 oz jar Bionaturae Tomato Paste
24 oz jar Bionaturae Strained Tomatoes
½ cup beef broth (preferably homemade bone broth)
½ cup dry red wine
1 tablespoon dried Italian herb seasoning
2 tablespoons dried basil
1 teaspoon salt
½ teaspoon ground black pepper, or to taste
Instructions
Heat a large skillet over medium-high heat and stir in ground pork seasoned with homemade italian sausage seasoning recipe (use your own or the one we've linked in the post), diced onion, and minced garlic.
Brown the pork and crumble.
Stir in crushed tomatoes, tomato paste, strained tomatoes, beef broth, red wine, Italian seasoning, basil, salt, and black pepper.
Transfer the sauce to a slow cooker and cook on low for 6 to 8 hours.
Serve over einkorn wheat rigatoni, spiralized squash/veggie pasta, spaghetti squash, gluten free pasta, or bean thread noodles