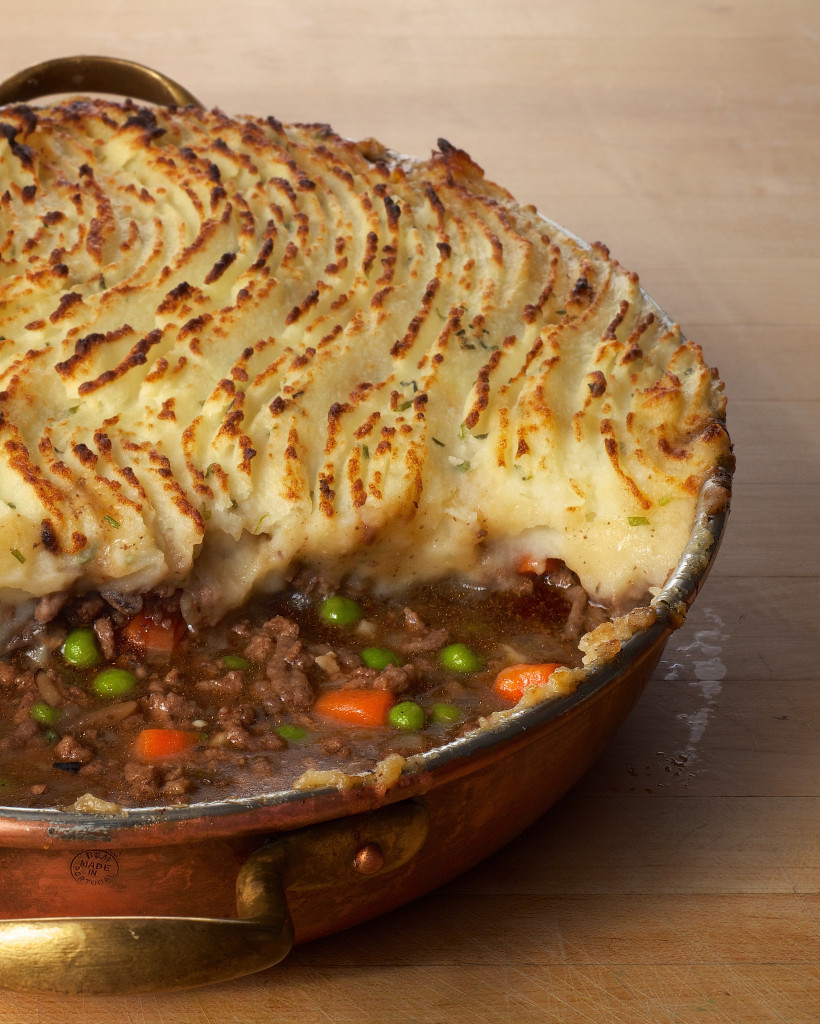 This shepherd's pie recipe is for that rainy, stormy day that stumbles upon you just when you had thought a gentle, calm and tender spring had begun to bloom. It is really a variation of Russ Crandall's recipe from his book, The Ancestral Table: Traditional Recipes for a Paleo Lifestyle
. I highly recommend picking this cookbook up. I loved the shepherd's pie, garlic mashed potatoes, lechon asado and I'm sure the rest of the pages only hold more delectable recipes. Besides this book guiding your exploration through worldly and traditional fare however, the information provided will lead you on a path of whole food living as well.
Some things I have varied from the original recipe include using organic frozen peas and carrots, raw sour cream instead of heavy cream, seasoning the filling with seasoned salt and adding freshly grated, raw cheddar to the top of this traditional St. Patty's Day dish.
This recipe will comfort your soul and warm your belly with friends and family just when you need it the most.

Shepherd's Pie
Ingredients
2 pounds Russet potatoes, peeled and cut into 1-inch cubes
3 tablespoons butter, divided
½ cup raw sour cream, or more to taste
2 tsp teaspoons sea salt, divided
2 tsp black pepper, divided
Seasoned salt, to taste
1 pound ground beef + ½ pound ground lamb
1 small yellow onion, finely chopped
1 tablespoon tomato paste
2 cloves garlic, minced
½ cup beef bone broth
1 teaspoon worcestershire sauce
2 cups frozen green peas & carrots
raw cheddar cheese to cover top of casserole
Instructions
Place potatoes in a stock pot and cover with water until 1 inch above the potatoes. Bring to a boil and cook for 15 minutes, reduce the heat if the water seems like it is going to boil over.
Pour the contents of the stock pot over a colander and return the potatoes to the pot. Mash the potatoes with 2 tablespoons of butter and a ½ cup of raw sour cream. Add 1 tsp sea salt and 1 tsp pepper here.
While the potatoes are cooking, heat a dutch oven over medium high heat. Once heated brown the 1.5 pounds ground beef & lamb mixture.
Remove the meat to another plate and keep rendered fat in the dutch oven. Reduce the heat to medium, add one tablespoon of butter to the pan and cook the onions until softened (6-8 minutes).
Add in the tomato paste and garlic and cook two additional minutes.
Add in the beef bone broth, worcestershire, and remaining 1 tsp of sea salt and 1 tsp pepper. Cook three more minutes until the bone broth has almost completely evaporated.
Take the dutch oven off the heat and add in 2 cups frozen peas and carrots, stirring to incorporate. Here, you may also add seasoned salt to taste.
When both the filling and mashed potatoes are prepared you can either,
spread the potatoes over the mixture in the dutch oven and grate cheddar cheese over the top to cover and cook immediately at 450 degrees for 30 minutes OR
make up the dish in the dutch oven or other casserole pan and refrigerate for up to two days until you plan to cook it.
Additionally, you could freeze the uncooked casserole until the date you intend to cook it. This would require bringing it to room temperature the day you'd like to bake it and again, baking at 450 for 30 minutes.