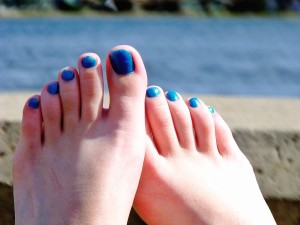 The Common Bunion
A dysfunction of the foot that can cause disastrous effects throughout the body is the hallux valgus or common bunion. Whether people develop bunions because of genetics, poor fitting footwear, or both, is definitely possible and commonly contemplated. Regardless of the outward cause however, bunions can always be seen paired with other foot abnormalities in function. Foot pronation is probably the most common abnormality paired with those beautiful big toe bumps.
Bunions are corellated with pronation of the foot and hypermobility of the big toe. F.D. Ross write in Prosthetics and Orthotics International that for a hypermobile big toe to become a bunion the forefoot must adduct/pronate to a degree greater than 15°, and this adduction affects the positioning of the toe as you push off your foot as you walk. This angled positioning forces your muscles to try to hold the toe against the ground while the other toes move in the frontal plane, and this counteractive motion causes subluxation of the big toe joint itself (Ross, 1986). This is why the angled toe and emphasized joint occur. Some believe if you fix the toe alignment, you can fix the pronation issue. Others believe pronation is the root cause of bunions. Either way, many people live with a foot deformity that not only looks ugly but also reinforces big toe joint pain and foot pronation. This is the main reason why bunions can have devastating effects on the body why we should all try to care for our feet.
Now How Does the Toe Affect Your Ankle, Hips, and Pelvic Stability?
The linkage of the foot-ankle complex to the hip and pelvic stability is fundamental in life and Pilates. The bottom of the human kinetic chain (our total body movement system) is weakened by bunions and hyperpronation of the feet which may impacts one's ability to stabilize themselves or even live simply free from lower body pain.
Hyperpronation of the foot (caused by bunions) can lead to thigh internal rotation and increased anterior pelvic tilt. (Khamis, 2007, p.132-133). Increased anterior tilt or sway back causes tight lats which affects theposterior oblique sub-system (a sash of muscles across the back of your body) and weakens the gluteus maximus (your biggest booty muscle!). Often times, this also alters the length-tension relationship of the thoracolumbar fascia. The thoracolumbar fascia is also a part of the deep longitudinal sub-system (a muscle system that runs along the sides of your back and down your legs). Because of the decreased activation of the glutes following anterior pelvic tilt, the erector spinae tighten in an attempt to compensate for them. This causes the core stabilizers to weaken and alters the length-tension relationship of the sacrotuberous ligament which further causes an instability of the SI joint and possible chronic low back pain (NASM CES, 2010, p.296-297). The back pain may be due to the tightening of the erector spinae (muscles down your back) and lack of glute activation which increase compression on the joints of the lumbar spine (lower back)(Neumann, 2002, p.486). And to think all of these problems may have started with a misaligned big toe.
Bunions and pronation can also affect the hips. Both of these issues can cause the glutes and hip external rotors weaken and this forces the internal rotators, such as the adductors and hip flexors to tighten. All of these uneven forces across the body can create an unstable relationship between the pelvis and femur … the area otherwise known as your hip (NASM, 2013, p. 22).
One key muscle that can be stressed by this instability is the piriformis. "The piriformis can be stressed due to poor body mechanics in a chronic condition or injured acutely with forceful hip internal rotation" (Brown, 2004). The piriformis often takes up the slack for the smaller inhibited gluteal muscles and results in a chronic tightening called Piriformis syndrome. Some who experience this muscle syndrome even develop sciatic nerve pain if their nerve happens to run under or through the muscle and inflammation occurs. That small bunion doesn't seem just cosmetically ugly anymore does it?
What Can You Do to Help Your Feet?
Bunions can have devastating effects upon the entire body as a whole, especially your lower half. But the extent of its influence may even be seen up into the shoulder since the lats are tightened as well. But what can you do to help your feet get some relief?
One thing that may help is simply spreading your toes. Creating space and stretching your toes to keep proper alignment can help revive tired feet. Products such as ToeSox and YogaToes separate your toes while you go about your day.
You can also be a little but more active about stretching and strengthening your own feet. Joe Pilates created a Toe Gizmo, which works to stretch and realign your toes… and you can even make your own out of rubber bands. This video is a very helpful exercise in foot health: The Pilates Toe Gizmo – Strengthen and Align Your Toes.
Self-Myofascial release of the body of the foot may also help rebalance the muscles that tighten as a result of pronating as well. See what kind of balls and techniques you can use here: Self Myofascial Release For The Foot.
And as always – talk to your doctor and discover what works best for you. Some people find relief from bunions successfully by using orthotics and others pursue surgery. If these "self help" techniques aren't working, find something else that does!
*This post was adapted from an assignment completed for California University's Master's Program in Exercise Science and Health Promotion
References:
(2010) NASM Essentials of Corrective Exercise Training. National Academy of Sports Medicine. Ch. 14, 290-316.
(2013) Human Movement Science. National Academy of Sports Medicine. Ch. 2,18-22.
Brown D.P., Freeman E.D., Cuccurullo S., et al. Hip Disorders. In: Cuccurullo S, editor. Physical Medicine and Rehabilitation Board Review. New York: Demos Medical Publishing; 2004. Available from:http://www.ncbi.nlm.nih.gov/books/NBK27181/
Khamis, S., & Yizhar, Z. (2007). Effect of feet hyperpronation on pelvic alignment in a standing position. Gait & Posture, 25, 127-134.
Neumann, D. A. (2002). In Kinesiology of the musculoskeletal system: Foundations for physical rehabilitation (2nd ed.). St. Louis: Mosby.
Ross, F.D. (1986). The relationship of abnormal foot pronation to hallux abducto valgus – a pilot study. Prosthetics and Orthotics International, 10, 72-78